retractable ceiling fan
Report Ad. A retractable ceiling fan is a fan that can retract its blades when it's off and spreads out when it's on.
ceiling fans are more effective in cooling a room than floor fans. At low and constant speeds, ceiling fans move a high volume of air to circulate the whole room evenly and efficiently. In short, they do a better job than floor fans overall even though they consume more electricity.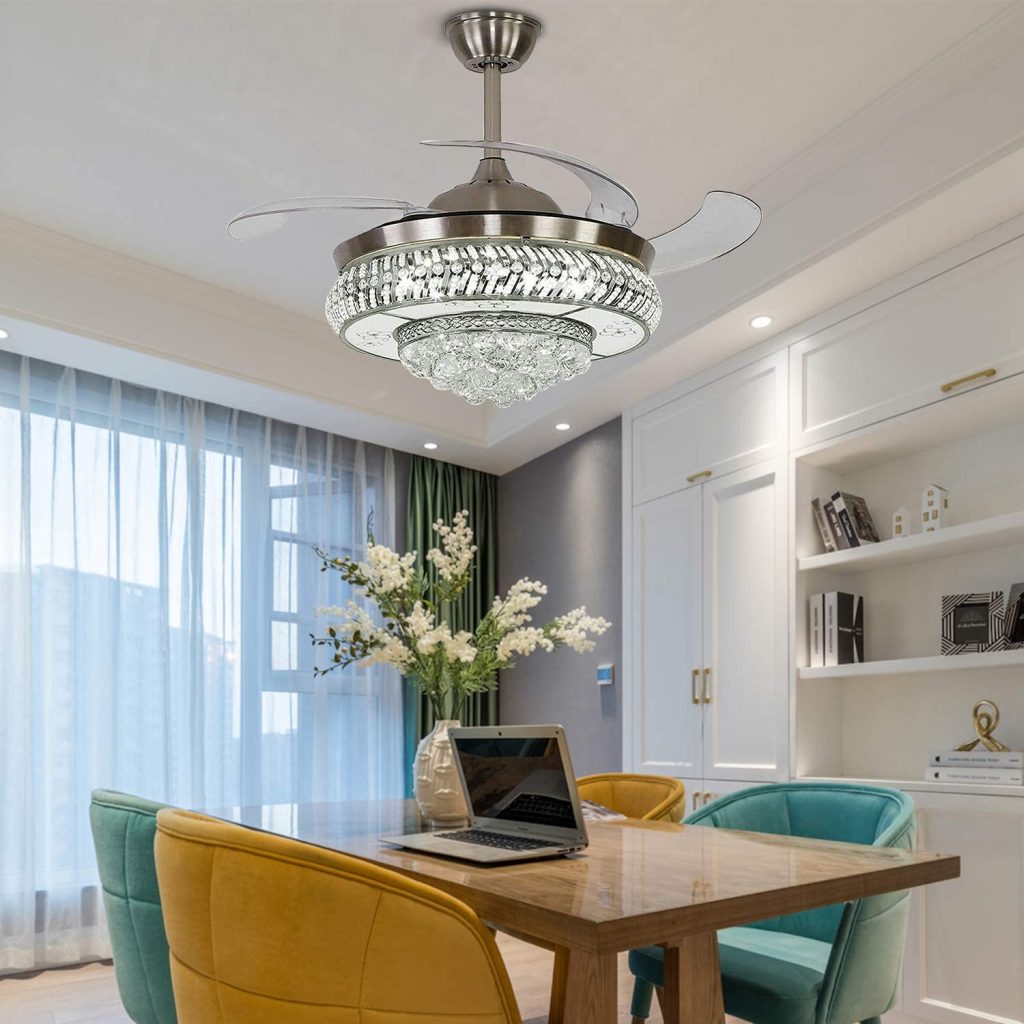 360°
Air circulation Enjoy the natural wind
Natural ventilation, the flow of air through a building, is sometimes not sufficient to keep the occupants of the building cool and comfortable. In the Louisiana summer, most people turn to air conditioning to increase the flow of cool air in the home. Central air conditioning units, however, use a lot of energy and are expensive to operate. Fans, particularly ceiling fans, are a good option to increase air circulation while saving energy.
Use the ceiling fans instead of the air conditioner.
Use the ceiling fans along with the air conditioner, but raise the thermostat 2°F to 6°F. Each degree the thermostat is raised can save 4% to 8% on cooling costs.
Retractable ceiling fan with bluetooth speaker
Modern Ceiling Fan: This retractable ceiling fan comes with brushed nickel body and transparent blades which looks contemporary and simple .
Play your go-to music, podcasts and more
Quiet and Multi-Speed Reversible Fan Motor: SNJ motor deliver ultra-powerful airflow for high-speed cooling, and it can be run in reverse in the winter to aid in rotating the warm air in the room to keep your room warm.
Retractable Ceiling Fans
ADJUSTABLE SPEED
[ADJUSTABLE SPEED] fan light has 6 wind speeds to remove heat effectively. The black ceiling fan with light will automatically turn off at a certain time after the timer function (1h/2h) is activated, which is very convenient to use when you are about to fall asleep.
UNIQUE DESIGN
[UNIQUE DESIGN] The retractable ceiling fan with lights and remote control has 3 color temperatures. The fan blade part can be shrunk when not in use, and the lampshade can also be adjusted according to the shape you like. This retractable ceiling fan is simple, light and luxurious, and very popular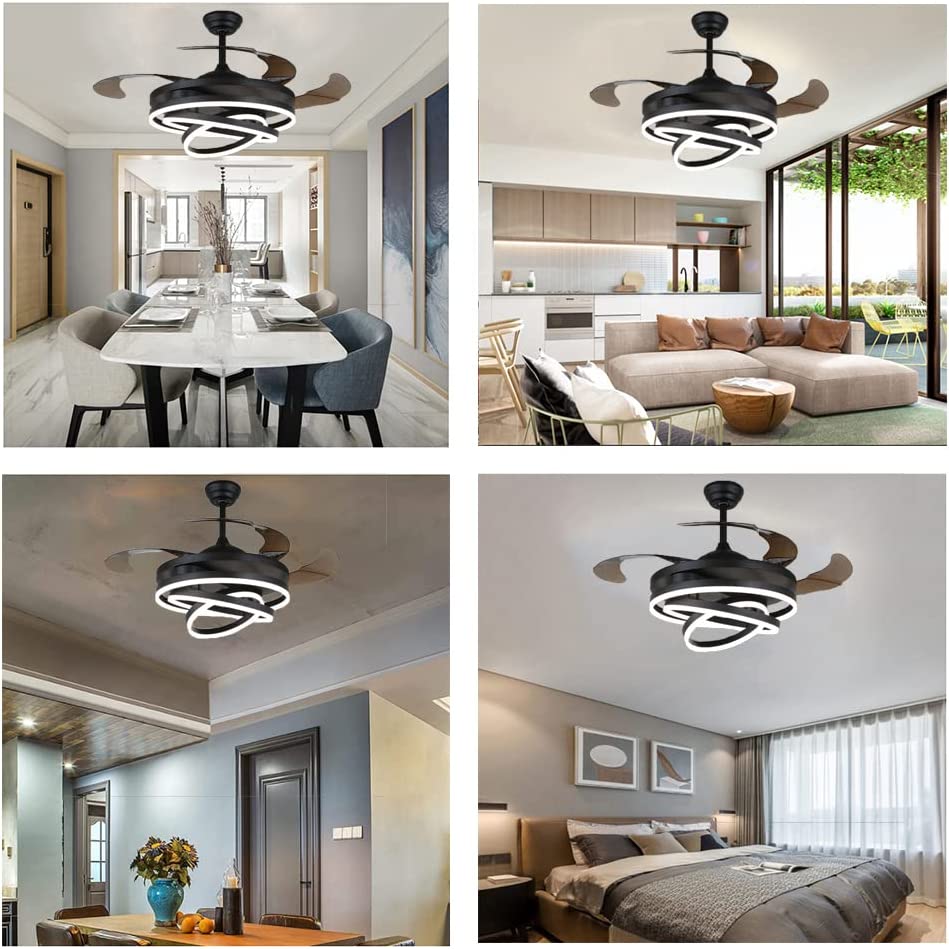 Modern LED Semi Flush Fan Light
SILENT FAN
[SILENT FAN] motor provides 110V super strong airflow, factory balanced and sound tested to ensure that each blade never shakes, creating a comfortable living environment and improving sleep quality
APPLICATIONS
[APPLICATIONS] Modern retractable ceiling fans are installed in a hanging pipe style, which is suitable for kitchens, bedrooms, play areas, baby rooms, living rooms, attics, gyms, examination rooms, farmhouses and other places that require air circulation
Why it is recommended
Using fans rather than the air conditioner will produce the most savings, up to 80% off cooling costs. Some people, however, may not feel comfortable in the summer months using only the fans.
Using the fans along with the air conditioner increases air circulation and makes people feel cooler at a higher temperature. By using the fans, the thermostat can be raised without losing comfort and a 15% to 30% savings on cooling costs is possible. Ceiling fans cool people, not rooms. When leaving a room, turn fan off.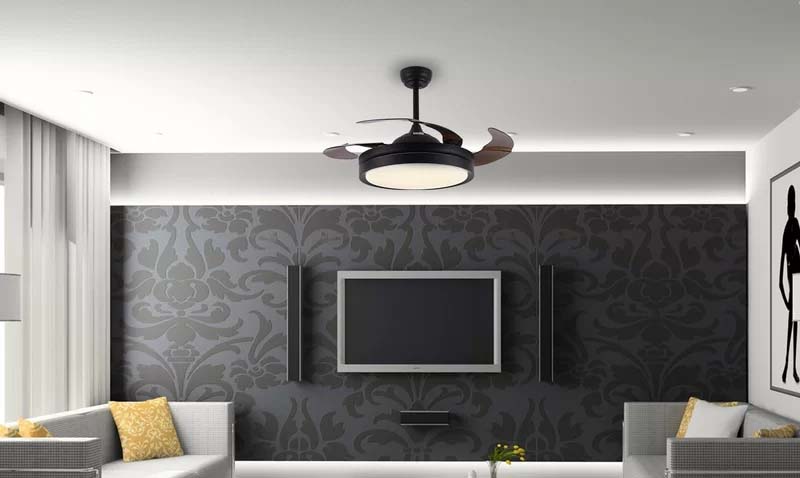 What's in the box
Blade LED Retractable Blades Ceiling Fan with Remote Control and Light Kit Included